As the nights start to draw in lighting becomes ever more important, in real life and on our layouts.
Locomotives have had running lights for some time - diesels more so than steam in British outline. Coaches can come with lights fitted or be retrofitted with them reasonably simply. Now, as nice as it is to have locomotives and rolling stock lit up, it can be slightly out of place if the rest of the 'world' is in darkness.
A simple way to rectify this discrepancy is to fit lights to buildings. This can be as simple as putting a light up inside an existing structure or purpose building one with lighting as part of the construction. Either method can enhance a layout and with darker evenings giving us the time to enjoy the effect in full, without having to stay up into the wee small hours!
The first thing to be aware of is that there are two types of providing illumination - Bulb or LED. The differences can affect how they are used and fixed in place. When put in a building, bulbs look like exactly that, an old-style house light bulb. They rely on a filament to illuminate and can get hot after extended use. LEDs will give the same light but remain cool and use a lot less power. This makes LEDs perfect for building lighting as regardless of the material the building is constructed from the lighting will not affect them when fixed inside – no melted walls!
Using LEDs can be a little bit more complex than bulbs. Most LEDs supplied for building lighting will have a resistor fitted to them already, enabling them to be used on the recommended voltage straight out of the packet. Others will need a resistor added to them based on the voltage requirements of the LED, this is to ensure that the LED will not blow when attached to the recommended power supply.
A few of the easiest LEDs to use are produced by the companies Faller, Viessmann, and Train Tech:
FA180667 Warm White LED Lighting Fixture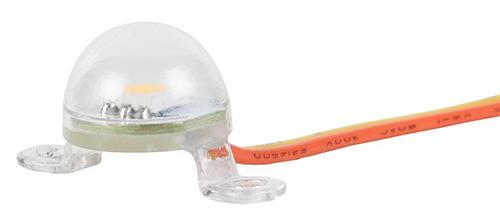 FA180663 Light Chain With Paper Lanterns Kit
VN6046 Floor Interior Lighting LED Warm White Set (10)
VN6047 Floor Interior Lighting LED Yellow Set (10)
VN6048 Floor Interior Lighting LED White Set <10>
TTLED20 LED Pack 3mm Warm White 12v LED w/Wire & Resistors (10)
TTLED21 LED Pack 3mm Cool White 12v LED w/Wire & Resistors
These can all be fixed in place and powered up straight from the packet. You will also see two variants of white available - cool white or warm white (also can be a yellow white). This is so you can represent old style lighting (warm white, yellow) or more modern lighting (cold white).
You can also paint onto LEDs if you want a totally different effect/colour. Because LEDs do not heat up, this is easily done with any acrylic paint and can add some fun colours that aren't normally available.
Other effects for buildings can be used, such as building lighting units that randomly switch lights on and off, or a TV lighting effect, that makes it look like a TV is being watched in a dark room. You can also add such things as disco/party effects to buildings if you want something a bit livelier!
FA180678 LED Building Lighting
TTSL60 Smart Light Television Simulator
TTSL10 Smart Light Party (Disco)
The Smart Light from Train Tech is also available as custom version (TTSL100) which can be programmed as you see fit. You can read about it in this previous article in RIGHT LINES.
Lighting is obviously a very expansive subject with many, many options available for building lighting, street lighting and vehicle lighting, but by starting small and experimenting you can add a little bit of extra interest to your layout easily and at very little cost.
"Let there be light!"