The Festival of Speed, held annually in the grounds of Goodwood House near Chichester, West Sussex, is an event that attracts tens of thousands of motor racing enthusiasts from around the world. While it encompasses all forms of motorsport from all eras, many are drawn to the event by the mouth-watering array of Formula 1 machinery on show, both classic and modern. Here, we look at some cars at this year's event from the 1960s and 70s that have been made as slot cars by various manufacturers.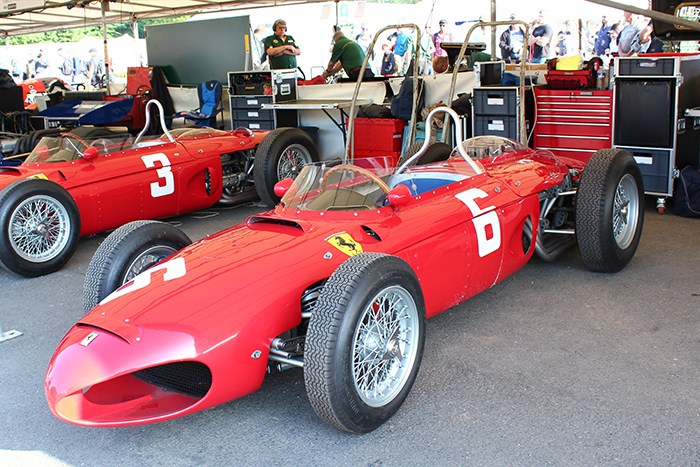 The famous Ferrari 156 'Sharknose', as raced in the 1961 F1 season to the driver's world championship by American Phil Hill. The car was made in the 1960s by Scalextric both here and in Spain, as well as Airfix and VIP. It has also been remade by Scalextric more recently as a super detailed model.
The Lotus 25 gave the late Jim Clark his first world championship in 1963, and there were many versions released in the 1960s - again by the likes of Airfix, Scalextric and VIP. In 2019, Scalextric again paid homage to this iconic car produced a version as part number C4195.
Jack Brabham was one of the few men to race a car bearing his own name, and this is the BT26 that he drove during the 1969 season. Scalextric previously produced a highly detailed model of this car in recent years, with both the high and low rear wings as shown here.
BRM was a major force in F1 during the 1950s and 60s, however they faded away in the 1970s. This P160 model was one of their last hurrahs and was driven by a young Niki Lauda. It was released as a slot car in period by Scalextric, however lookout for a super-detailed model from Policar later in 2021.
What is there not to like? It is a Lotus in the unmistakeable black and gold of the JPS colour scheme. This Lotus 72 from 1972 took Emerson Fittipaldi to his first world championship in that year. There were few versions made of the car in period, but in the last few years both Scalextric and Policar have released highly detailed models of this car.
Did you have one of these? Scalextric released the Shadow DN1 from 1973 back in the day, albeit not in the Embassy livery that Graham Hill raced with. This is one of the few F1 cars that has not been re-visited by any slot manufacturer since.
Here is another F1 car that has been made both then and now, the Brabham BT44. The real car raced during the 1974 season mainly in plain white, while in 1975 it gained this iconic Martini livery. Scalextric was one of the manufacturers that produced the car in the 1970s, but look out for the high detailed Fly version that has been on sale over the last few years.