The hugely successful GMC-PM10 Classic Solenoid Point Motor was launched in October last year. It was made with a digital version in mind and this is what we are proudly presenting to you here.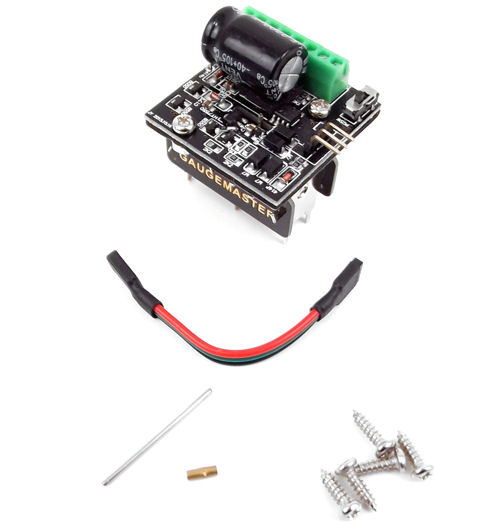 What Is It?
The GMC-PM10D Classic Solenoid Point Motor (DCC-Fitted) is a standard solenoid point motor (the same as the regular GMC-PM10) with a decoder for digital operation. Inside the decoder is a Capacitor Discharge Unit (CDU) – that's right a CDU per point! It has been designed to be small, efficient and useful for any modeller although it is targeted for DCC users.
What Can It Do?
The main advantage of the GMC-PM10D Point Motor is that it is so easy to install. Like its analogue cousin, it can either be installed directly under the point, clipping in to most UK brands of OO and N Scale track. Alternatively you can unscrew the decoder from the motor and mount it under the baseboard. A drive pin extension is provided for this purpose.
The decoder can be detached from the motor, allowing under board installation.
No soldering is required thanks to its screw terminals, and the harness from the motor to the decoder just plugs straight in. This means your point motor can be operational after a relatively short amount of installation time. Only two wires are needed for power from your power bus or track, and additional terminals are provided for an override switch, as well as LED indicators for independent operation on a mimic board. This means that the GMC-PM10D can be used on DC operated layouts, not just DCC. The LED connectors can also be used to run signals.
The programming switch on the left, and the terminal block for power, switch and LEDs.
The programming switch means you can programme the decoder with ease, and you can install it straight onto the main track. All you have to do is enter your desired address on your DCC Controller and then flick the switch to SET, entered your desired address on your DCC Controller, activate left route or right route as you would if you were actually moving a point (REMEMBER to only press one button when in SET mode) then flick the switch back to RUN, it's really is as simple as that. The previously mentioned inbuilt CDU ensures your point will fire true every time.
In my opinion, the GMC-PM10D is a fantastic product. It will save you time installing and wiring which means more time running your trains.