When you think of all the great British racing drivers from the 1950s and 1960s, one name that often gets overlooked is Ken Miles.
Hopefully, this was put right by the portrayal of this likable Brummie by the actor Christian Bale in the movie Le Mans 66. Miles spent most of his racing career in the US where he became associated with 1959 Le Mans winner Carol Shelby. Shelby's involvement with Ford's GT40 program ensured that Miles did a lot of development work on the car. The pinnacle of his achievements were his wins in the GT40 MKII at Daytona and Sebring in early 1966.
As the movie showed, he was robbed of getting his third win at Le Mans due to Ford wanting a three-car staged finish at the 24-hour race. After this, he carried on working for Shelby in developing the revolutionary Ford J-Car that later became the MkIV. He was sadly killed in the car, testing at Riverside later in 1966. Some of his more important race cars have been produced as slot car models, including two of the GT40s from 1966 which have been released by many slot car producers - here are some of the models that you might want to look out for.
As featured in this issue, the earliest car Ken raced that has been produced as a slot car is this 1955 MG from Le Mans 1956 - as made by SCX.
Some years back, Revell produced this Shelby King Cobra carrying Miles' favoured race number – 98.
Also from Revell is this Shelby GT350 Ford Mustang that had been driven by Ken. Models like these are still out there if you look; we used to have them on our shelves here at Gaugemaster back in the day!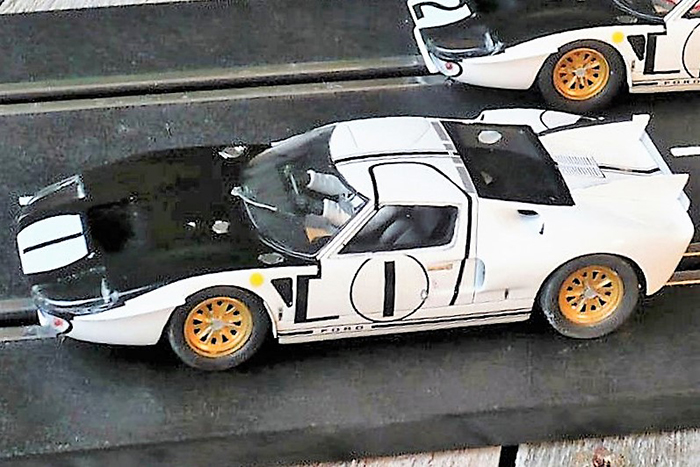 Le Mans Miniatures have produced the first of the 7 Litre cars that Ford entered into Le Mans in 1965. Partnered by Bruce McLaren, the Miles car number 1 retired due to gearbox failure.
Success at Ford beckoned when Miles won the Daytona 24 hrs in 1966, in this version of the MKII made by Slot.it. He would also win at Sebring a month later.
So popular has this car been that in recent years, it's been made by Scalextric, Fly Car Model, Slot.it and NSR. This is the great performing version of the car that should rightfully had won the 1966 Le Mans for Miles, produced by NSR.