The title is not to be confused with the entry level HO Scale set produced by Hornby - this is in regards to the set given to me for Christmas in 1967.
I had been pestering my folks all year for a Scalextric set and it paid off as on the 25th December and surrounded by Christmas music from the gramophone and the smell of pine, I was presented with a brand-new Set 31. My ad and I raced and raced over the holiday, and I even let my sister have a go... Yes, it was this set that launched me into a lifetime hobby of slot car racing!
It was not uncommon for toy manufacturers to use artwork containing slightly better or more exciting items on the box lid than were actually inside. In the 1960s, Scalextric often used generic pictures so you might not be sure what was inside without further investigation. I was, however, very grateful of my new present, regardless of what cars were supplied.
As it turned out, Set 31 did not contain Jim Clark in his Lotus or Surtees in a Ferrari, but these two models. The Green BRM P57 was OK, but the Red car? It was in fact a Porsche 804 which bar one win, had little success in F1 and both cars were rather dated by the end of 1967. They both had the small FJ motors which had zero torque and fitted with steering, although the latter didn't work that well with the little pin type guide it used.
The track inside used quite a few of the tight radius 1 curves, which I remember the little cars did not like much and frustratingly came off a lot. The other thing I remember was the smell from the controllers - even with these little motors they would get hot after some time, and yes, the big can FT16 motored cars on the market by then would fry them in seconds!
The instructions showed you how to build alternate tracks with what was supplied. There were also cunning details on how to expand what you had, helping you spend your Christmas money from Aunts and Uncles! There is a warning not to use Race-Tuned cars with the controllers, I wonder how many ignored that to their cost!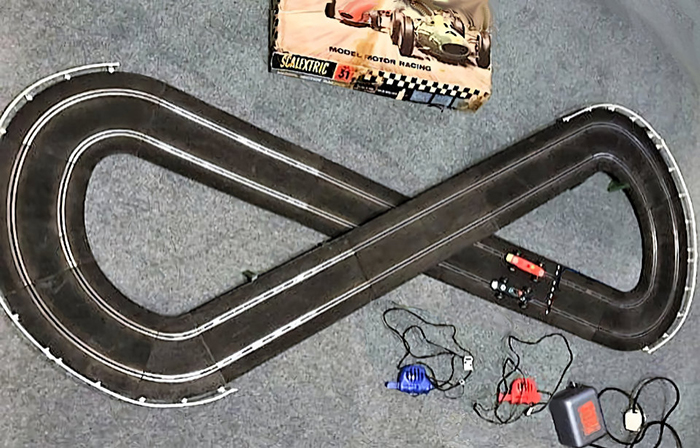 Small negatives aside, I had many hours of fun racing with my Dad and as you can image the set did not stay as it was for very long. More track, better cars and controllers were all soon added – just like they will be in 2020/21 as kids wake up on the 25th to open their own first slot car race set - Remember, 'Slot cars are for life, not just Christmas!'